Welcome to the Nashua Public Library

The Nashua Public Library has been established for the purpose of serving the basic informational, educational and recreational reading, listening and viewing needs of this community. We are located at 220 Brasher Street, Nashua, IA 50658-0619. You may reach us by phone at (641) 435-4635 or e-mail: naslib@butler-bremer.com
Monday 9:30 - 11:30 1:00 - 8:00

Tuesday 1:00 - 6:00
Wednesday 1:00 - 8:00
Thursday 9:30 - 11:30 1:00 - 8:00
Saturday 10:00 - 2:00
The Library will be closed on the following Holidays:
New Year's
Memorial Day
Independence Day
Labor Day
Veteran's Day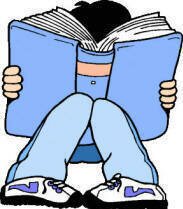 Thanksgiving
Christmas Eve
Christmas Day
New Year's Eve
Books: approximately 15,000 books, popular and practical topics in non-fiction and classic and contemporary fiction.
Large Print: There are over 400 large print fiction and non-fiction books in both hard and soft cover owned by the
library. To supplement the large-print collection, the Decorah Public Library lends additional large-print books to the
Nashua's Public Library on a monthly rotation.
Decorative Cake Pans: An assortment of decorative cake pans are available for check out free of charge from the
Nashua Public Library.
Genealogy: Local history, as well as many family histories, can be found at the Nashua Public Library. Record
books showing marriages, deaths and births are also available. Cemetery records for local cemeteries are charted.
Services at the Nashua Public Library
Reference Services: For help in finding information on any subject; visit the circulation
desk in person; call 641-435-4635 or e-mail naslib@butler-bremer.com
Information Desk: Greets patrons, answers questions about the library and registers borrowers.
Interlibrary Loan: The circulation desk can assist you in borrowing materials that are notavailable at the Nashua Public Library from another library.
Library services available:
Genealogy & local history Vertical file

Large print books Paper Cutter

Iowa phone books 15,000 books

65 magazine subscriptions Film projector

Photocopier Slide projector

Electronic typewriter Overhead projector

Computers Internet connection

300 videos 5 area newspapers

Weekly story hour Microfilm reader

Income tax forms Fax machine

Perpetual Book Sale

Decorative cake pans
Public Use Facilities and Equipment
Community meeting rooms are available for public use and are located in the historic Carnegie Library. To schedule
use of one of the meeting rooms, please call 641-435-4635 or e-mail the library.
TV/VCR, slide projector, film projector and screen are available for use if needed.

A photocopier is available; 15 cents per copy.

Four computers with internet connection are provided for public use. Children under the age of 18 must have an internet permission card signed by their parent or guardian before they will be allowed to use the internet.
You may obtain a free library card at the Circulation Desk.
Loan periods: All books, audio cassettes and magazines are checked out for two weeks, with two week renewals. Video cassettes are checked out overnight at a cost of 50 cents per video.
Holds: May be placed on materials in circulation or on order at the Circulation Desk or by phone.
Overdues: Each Monday phone calls are made to remind individuals with overdue material to return their library material as soon as possible. Fines are ten cents per day. Exception: fines for overdue video cassettes are 50 cents per day. The total fine charged on an item will never exceed the cost of the item. Accounts should be paid at the Circulation Desk. Replacement cost will be charged for lost or damaged materials.
The first library of Nashua was started with books donated at a book shower. These books were gathered in a room
over the Bartish & Nafus Racket Store along with books from the traveling library out of Des Moines. The firstw
librarian was Miss Fanny V. Eastman. In 1903 the library was moved to a building on Madison Street after a 3-mill
tax was passed in 1902 to cover expenses.
In 1903 several members of the Nashua Isabella Club began corresponding with Mr. Andrew Carnegie asking for enough money to build a library facility in Nashua. The correspondence was, however, one-sided. Some of the residents of Nashua joked that Mr. Carnegie did not give libraries to such small towns! Others commented we must have a least $10,000 before he would even consider us worthy of notice. But the women of the Isabella Club had a mission and they were not going to be easily discouraged. Their correspondence continued for months with Mr. Carnegie.
Close to a year passed and like a thunderbolt from a clear sky a proposition arrived from Mr. Carnegie - an offer of $5,000 to put up a building if the council would support the tax and the citizens furnish the site.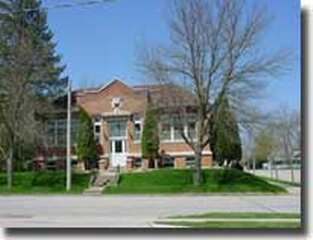 The council accepted the conditions, the site was secured, the plans and specifications were drawn and the contractor was hired. Nashua was going to have a library building that they could be proud of. The Carnegie Library was completed in 1905 and dedicated in 1906.
The Carnegie Library served the community of Nashua for 80 years. In 1986 a building addition to the Carnegie was completed. The Carnegie Library had become too small to adequately meet the needs of the community. The new addition has 3,000 square feet for the lobby, furnace room and bathroom. The facility was totally paid for by local
donations and grants when the doors opened. As Mr. Andrew Carnegie's generosity provided the community with a beautiful library, it is the communities support that has kept the shelves filled with books and the door open for close to a century.

For Questions or Comments please email nashuaia@butler-bremer.com