Gateway to the Northeast Iowa Welcome Center
Director Marleen Weigand
641-435-4187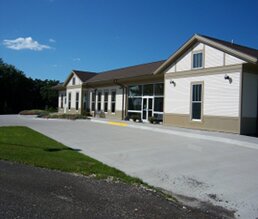 The Welcome Center is located less than a mile from a high speed interchange. It provides a safe access roadway stop for motorists and is highly visible from the interchange. The site is situated adjacent to a small wooded area and has a view of Cedar Lake and Cedar View Park. There is also a beautiful view from the deck.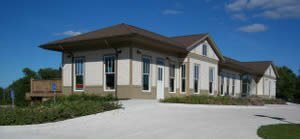 This building is a stand alone facility and includes a Craft Shop. It was designed to look like a railroad depot. There are two reception areas that can be rented for parties, anniversaries, auctions and events. The full basement serves as a storm shelter for the traveling public, fairground events, campers at the city campground and mobile home residents.
The Welcome Center Lobby is open 24 hours, 7 days a week.

It contains vending machines with pop, weather information, free wireless internet, and TV. There is an elevator in the Lobby. There is also a Family Restroom along with Men's & Women's. The Craft Shop has over 95 vendors with gifts for all ages and all occasions. The Craft Shop is open 9:00 - 4:00 pm seven days a week.